Product ID: HPM-1740-US (Click for Instruction)

Features
SEMI AUTO HEAT PRESS: This clamshell heat press machine by HeatPressDIY's innovative incorporates an electromagnetic technology to allow for automatic, hassle-free openings after a few buttons pressed and the pressure lever clamped down.
WIDE APPLICATION: Our industrial-quality digital heat press features a large 16x20 inch aluminum heating pad to bring your designs to life on T-shirts, masks, pillowcases, mouse pads, tote bags, ceramic tiles, puzzles, fridge stickers, and many other flat objects.
INTUITIVE CONTROLS: Our press's control box offers precise time settings up to 999 seconds and temperature settings up to 752F (400C) to provide superior transfers to many common materials, not including silk, wool, respirator masks, or chemical fibers such as nylon.
SLIDE-OUT BASE: The bottom carbon steel platen easily slides in and out along the dependable rails to prevent accidental burns as you cool off items or ready your next product, while the built-in handle provides sure and easy grips through the process.
DEPENDABLE SAFETY: In addition to its auto-open function, easy-to-use controls, and durable construction, this

HeatPressDIY

heat transfer unit also has a built-in fuse and an emergency stop button to maintain a longer service life. Order it for yourself or a loved one today and get started safely and easily creating your own wearable gifts and products!
Compare with the Similar Items
5 IN 1 12×15 Heat Press
8 IN 1 15×15 Heat Press
8 IN 1 12×15 Heat Press 
 16×20 Semi-Auto Heat Press
Power Usage
1000W
1000W
1000W
1600W

Max. Temperature

480° F 

480

°F

480° F

752° F

Timer Control
0-999 Sec.
0-999 Sec.
0-999 Sec.


0-999 Sec.

Color
Black, Red
Black, Red
Black, Red

Silver, Blue

Mug Press Machine
Yes
Yes

Yes
/
Mug Press

11 oz.

9/11/12/17 oz.
9/11/12/17 oz.
/
Plate Press
5" & 6" Max Diameter
5" & 6" Max Diameter

5" & 6" Max Diameter

/

Cap Press
√
√
√
/
Cord Length
4.5 ft
4.5 ft

4.5 ft

/
Features

Sliding Lower Plate/T-Shirts/Heat Transfer Paper Sheets

Sliding Lower Plate/T-Shirts/Heat Transfer Paper Sheets

Sliding Lower Plate/T-Shirts/Heat Transfer Paper Sheets

Sliding Lower Plate with Handle/ Auto-Opening System/Emergency Stop Button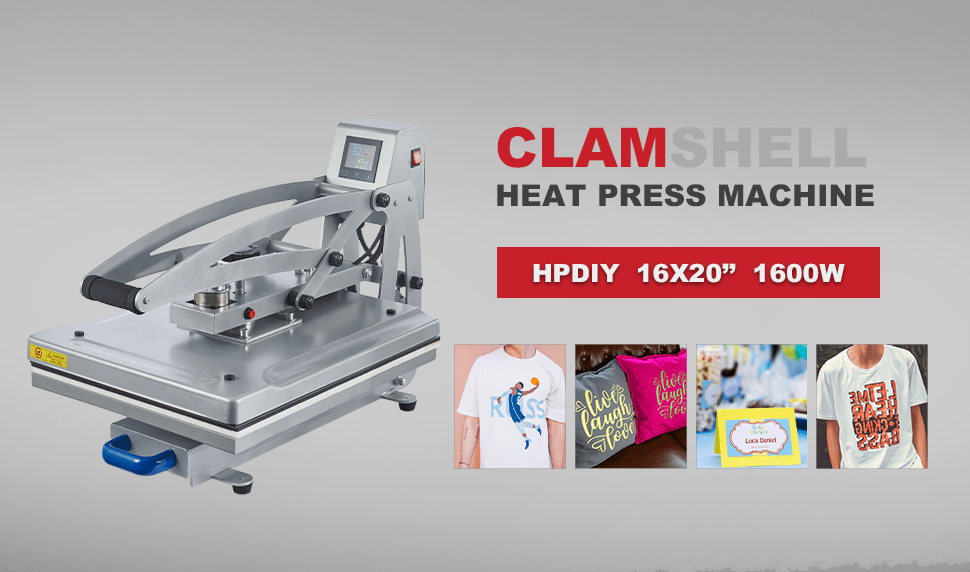 Combining digital dual-display and semi auto open, HeatPressDIY's machine brings you efficient and foolproof results that strong stick, even after repeated washes. Our press boasts all the must-have attachments, so you can be free to develop your imagination and create custom products with unique layouts using the Heat transfer machine anywhere, anytime. HeatPressDIY, the best assistant, escort for your DIY dream! All you need to do is put it into action in no time.

Semi-Auto Heat Press
Specification
Package List
 

Model: CH1702
Material: Carbon Steel, Aluminum, Metal, Fiberglass Fabric, Teflon, Silicone, Foam
Color: Silver, Blue
Power Usage: 1600W
Flat Press Area: 15.7 x 19.7 in. (40x50 cm)
Max. Temperature: 752 °F (400 °C)
Recommended Operating Temperature: 482 °F (250 °C)
Timer Control: 0-999 sec.
Package Dimensions: 30.7 x 21.7 x 19 in. (78x55x48.5 cm)
Package Weight: 90 lb. (40.9 kg)

1 x Semi-Auto Heat Press Machine
1 x Teflon Coated Fiberglass Cloth
1 x Silicone Pad
1 x Foam Pad
| | | |
| --- | --- | --- |
| | | |
| Sliding Base | Auto-Opening Design | Smart Digital Control |
| The bottom platen slides smoothly along the dependable rails to prevent accidental burns, while its handle provides sure & easy grip. | The closure magnets make sure the upper platen locks down tight while pressing on your design but automatically rises afterward. | Enjoy complete control and clear oversight of the temperature, working time, and cumulative batch count for your new designs. |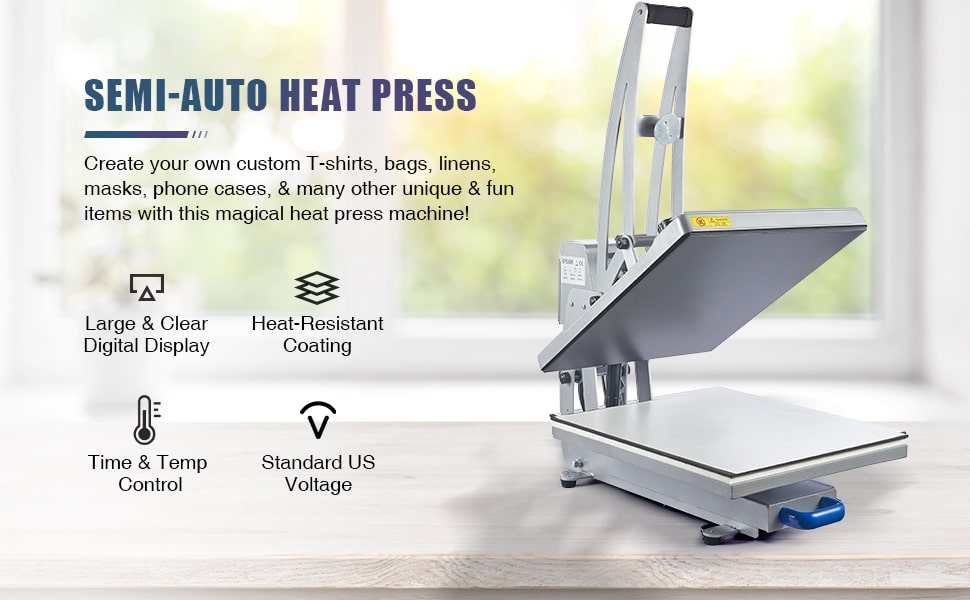 Thanks to our intuitive design and FCC and CE certification, try out your creativity in safety or provide this easy press kit as a birthday or Christmas gift to encourage an artist in your life. HeatPressDIY's friendly customer service and solid warranty ensure it will be around for years to come.